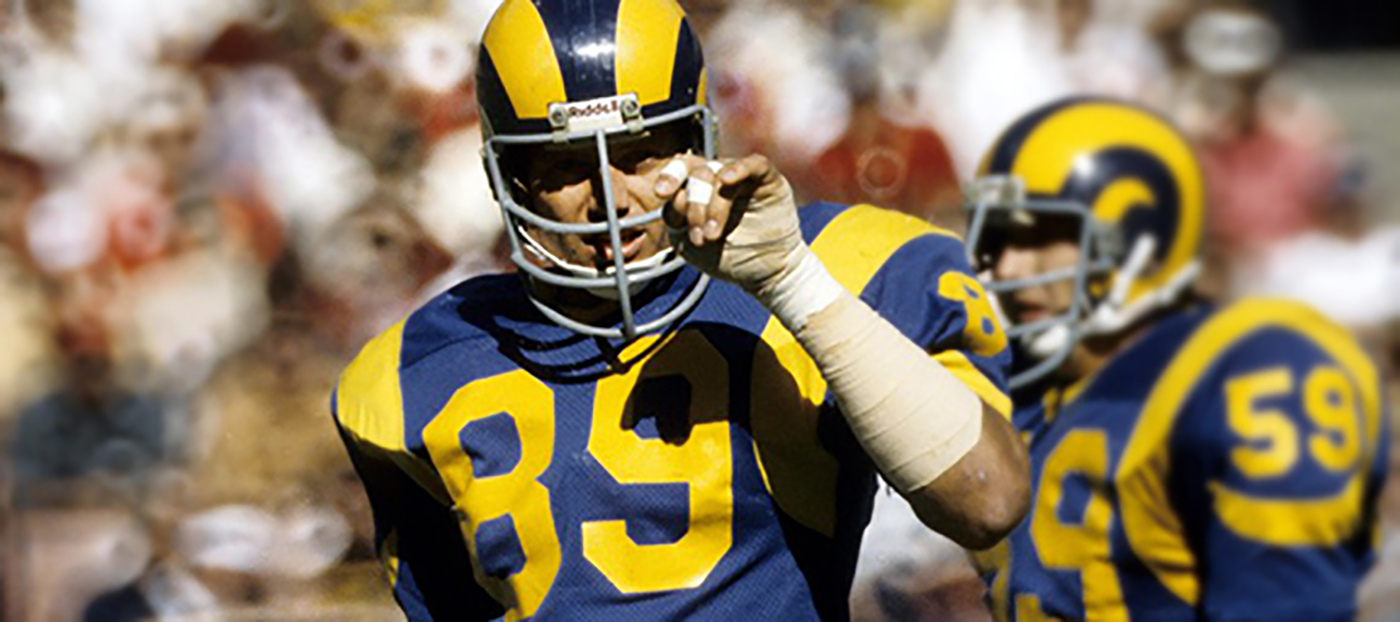 John Frederick Dryer was born July 6th, 1946, in Hawthorne, California. This South Bay city is located just eighteen miles due west of downtown Los Angeles, where he attended Lawndale High School from 1960-1964. In 1965-1966 Fred attended El Camino Junior College in Torrance, California before transferring to San Diego State University on a football scholarship.
Fred was a first team "Little All-American" and represented the "Aztecs" in the East-West Shrine Game in San Francisco, California and the Hula Bowl in Honolulu, Hawaii. In January 1969, Fred was the thirteenth overall pick in the NFL draft — selected in the first round by the New York Giants. After playing out his Option in the 1971 season, The Giants traded Fred to the New England Patriots on Draft Day of January 1972. In May of that same year, the Patriots traded Fred to the Los Angeles Rams, where he played right defensive end for 10 years, attaining an "All Pro" honors.
Following a successful career with the Giants and the Rams, Fred officially retired from the NFL in August of 1981. In September, Fred began working as an NFL color commentator for CBS. Then in January of 1982, Fred began his full-time pursuit of an acting career, where in March of 1984, he was hired by Stephen J. Cannel to play the role of Sgt. Rick Hunter on the NBC hit-series, "Hunter". The show aired for seven seasons and elevated Fred to worldwide fame. While acting as detective Rick Hunter, Fred's interest turned to directing and producing. He produced the sixth and seventh seasons of "Hunter" to much success and critical acclaim. Although NBC stopped airing original "Hunter" episodes in April of 1991, Detective Sgt. Rick Hunter lives on in syndication to this day, in more than one hundred countries around the world.
In the fall of 1991 Fred followed his NBC "boss" Brandon Tartikoff to Paramount Studios. It was there that Fred started Fred Dryer Productions. Under his banner, he produced two NBC movies — "Day of Reckoning" shot entirely on location in Bangkok, Thailand, and "The Return of Hunter", both of which were successful as demonstrated by their high ratings. After leaving Paramount Studios in August of 1993, Fred saw the opportunity to enter into worldwide, first run syndication with the one-hour action series, "Lands End". Shot entirely on location in Cabo San Lucas, Mexico, the off-center characters and unique storyline made this series a blockbuster worldwide. However, due to business constraints, Lands End lasted only one season. While still in limited syndication around the world, the series is not available here in the US.
In 2000, Fred produced, directed and starred in "Highway 395", a feature film shot entirely on location along the Interstate 395 corridor north from Lone Pine to Bridgeport.
Fred continues to work as an "actor for hire" and is presently in development on several film and TV projects. He can also be heard on "The Sports Show", a weekly sports talk show on CRNTalk.com.
Fred resides in Los Angeles, California and has one daughter, Caitlin Padgett, and three grandchildren, Emma Bo Padgett, Elle Gray Padgett and Freddy Gains.